After NoCoasterCon in January of 2013 I thought attending Coasting For Kids would be a great way for Draven and I to have a lot of fun together, get some awesome ERT at a Cedar Fair Park, but more importantly raise money for a great cause, and help me teach Draven about helping other people who are less fortunate then us. This merges our hobby and love of roller coasters, Father and son bonding time, and teaching about helping others.
After looking around at each of the different parks I decided we'd visit some of my friend's whom I work with (who live 15 minutes away from Muskegon, MI) and go to Michigan's Adventure. We arrived a couple days before the event to spend time together with friends and family.
We arrived and were greeted by a very cool "old school" sign, which I thought was very neat.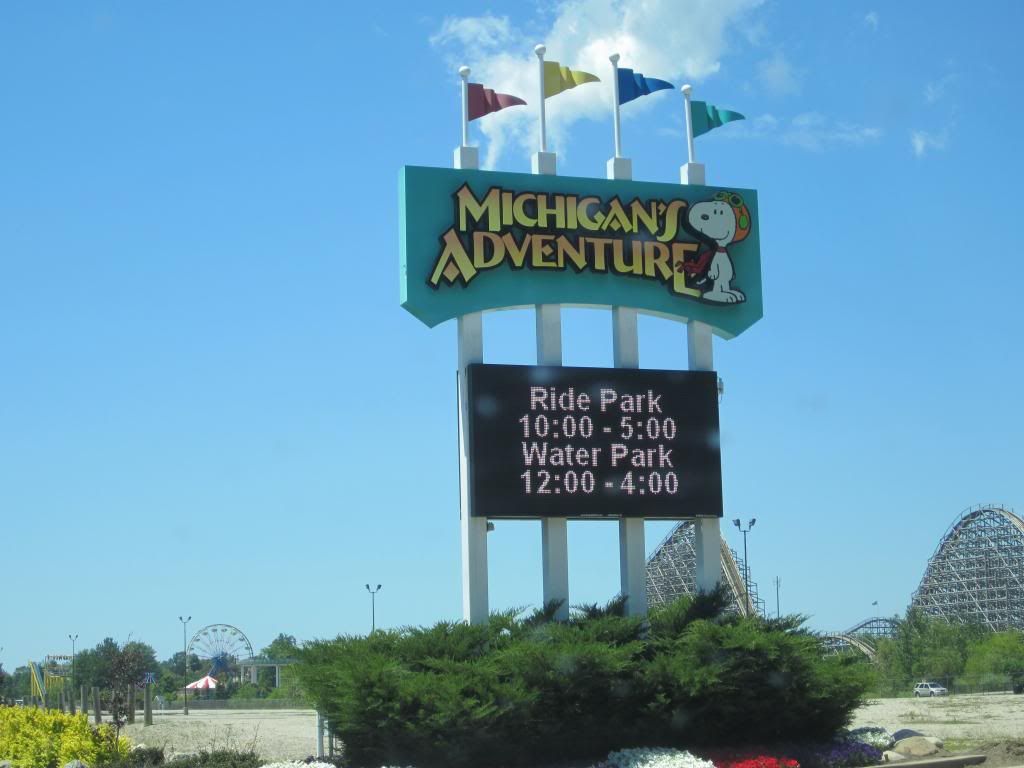 and as soon as we go past the parking attendant, woahhhh moma!
Stoked at the sight since Shivering Timbers is one of the 2 ERT coasters that we are marathoning!
Draven and I walk around a bit and take in the sight's of Michigan's ONLY amusement park...
Wow, Thunderhawk looks quite cool as well. I wonder how it'll ride for 3 hours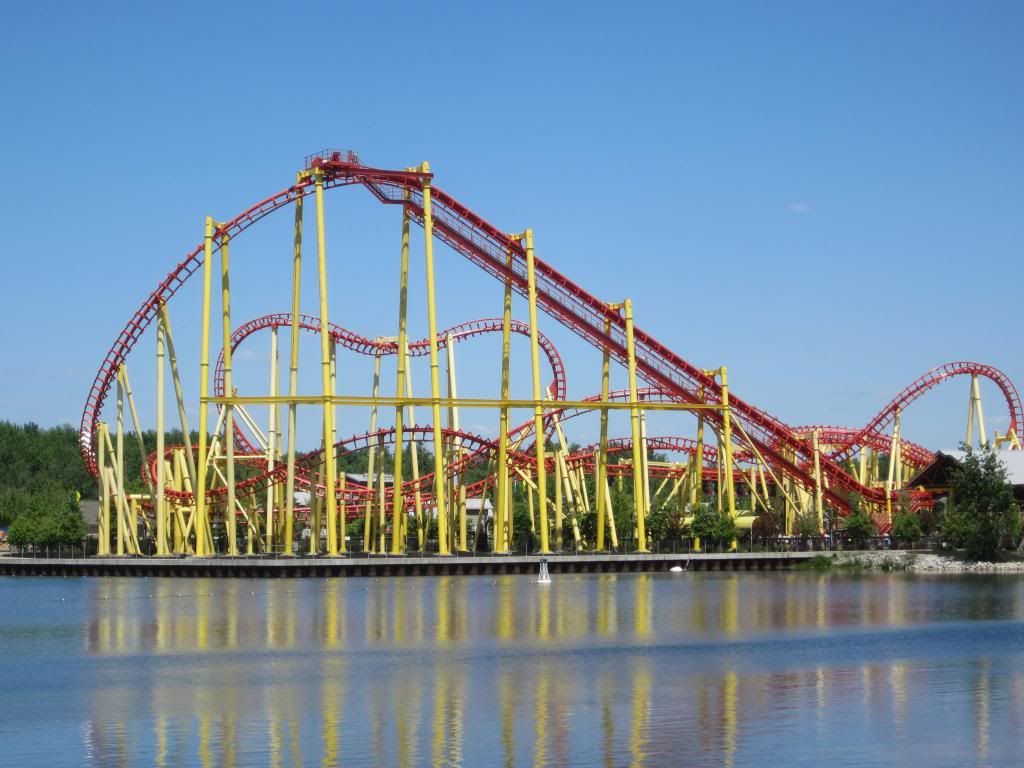 Draven say's "Hey Dad, let's go on their Ferris Wheel and see the whole park from up high", and honestly, that's a great idea, so we do. Wow, for such a small park, they really have a lot of room, and a pretty cool idea for building around a man-made lake as well.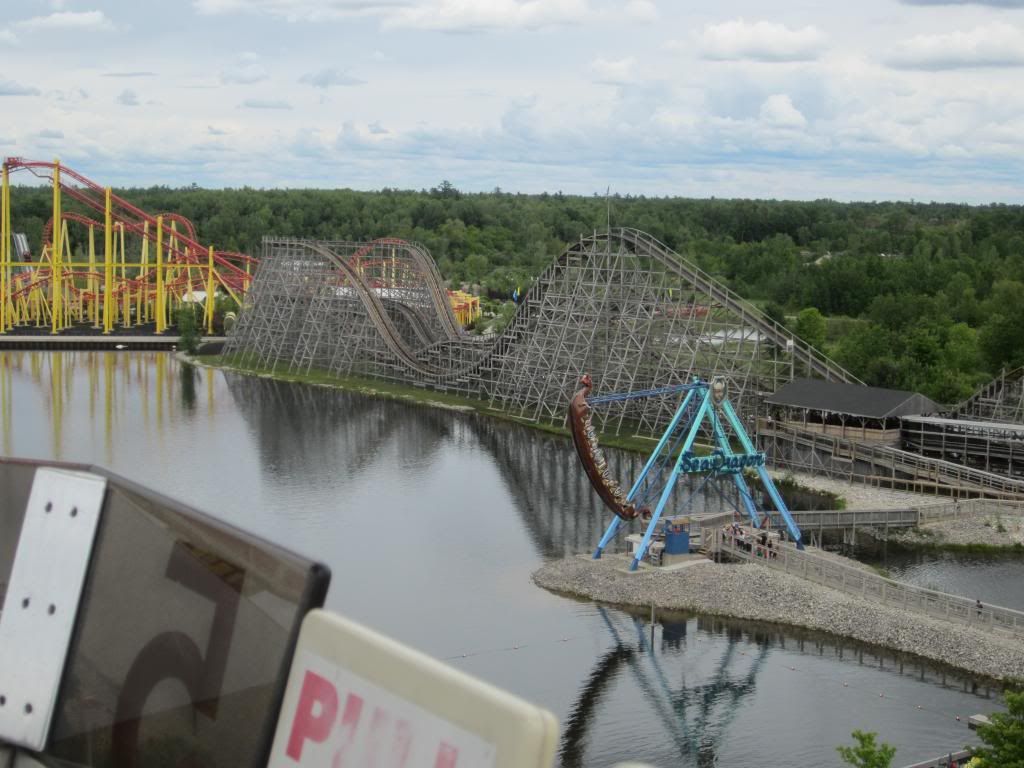 The next morning we check into the Customer Relations Office and get our Coasting For Kids shirts and whatnot, and I learn that I actually was the second highest fund-raiser for Michigan's Adventure and score a cool Give Kids the World prize-pack.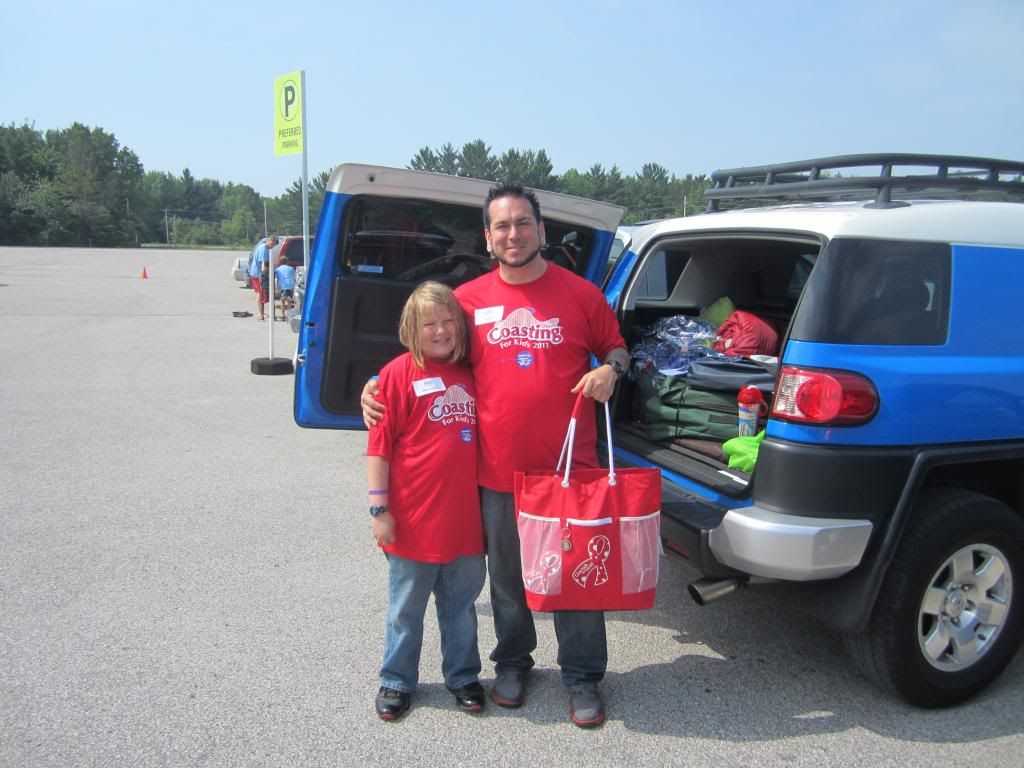 After meeting the other folks that are participating (about 10 all together) we all walk together to the first of our rides, the Vekoma SLC called Thunderhawk. After some trepidation with other "less then desirable" SLC's I was super happy to find that no only was it a fun ride, but very smooth and reridable as well! here's a bunch of us talking to the Ride Ops as they ask what I do for a living etc (I usually am asked if I am a tattoo artist for some odd reason
)
After 3 hours and 35 rides for me (32 for Draven) we take a break for some food and drink. What better way to prepare for 6 hours of Custom Coasters International goodness then fries and soda (and lunch as well
)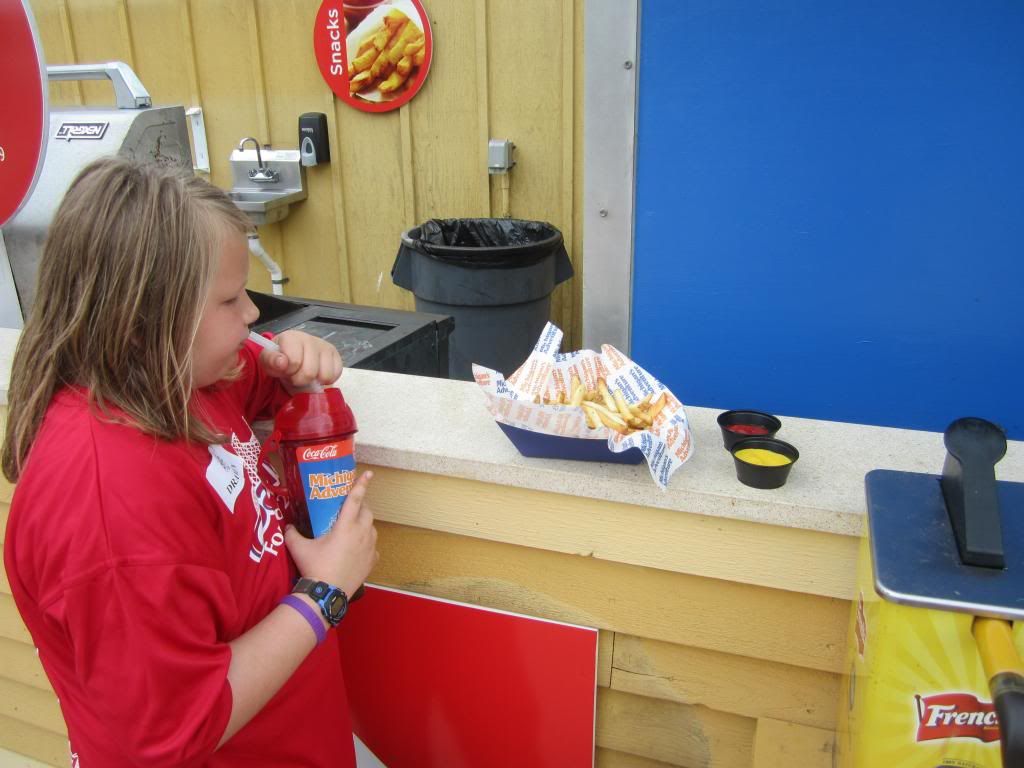 After a great lunch and group picture, we all walk over to Shivering Timbers to start our next marathon!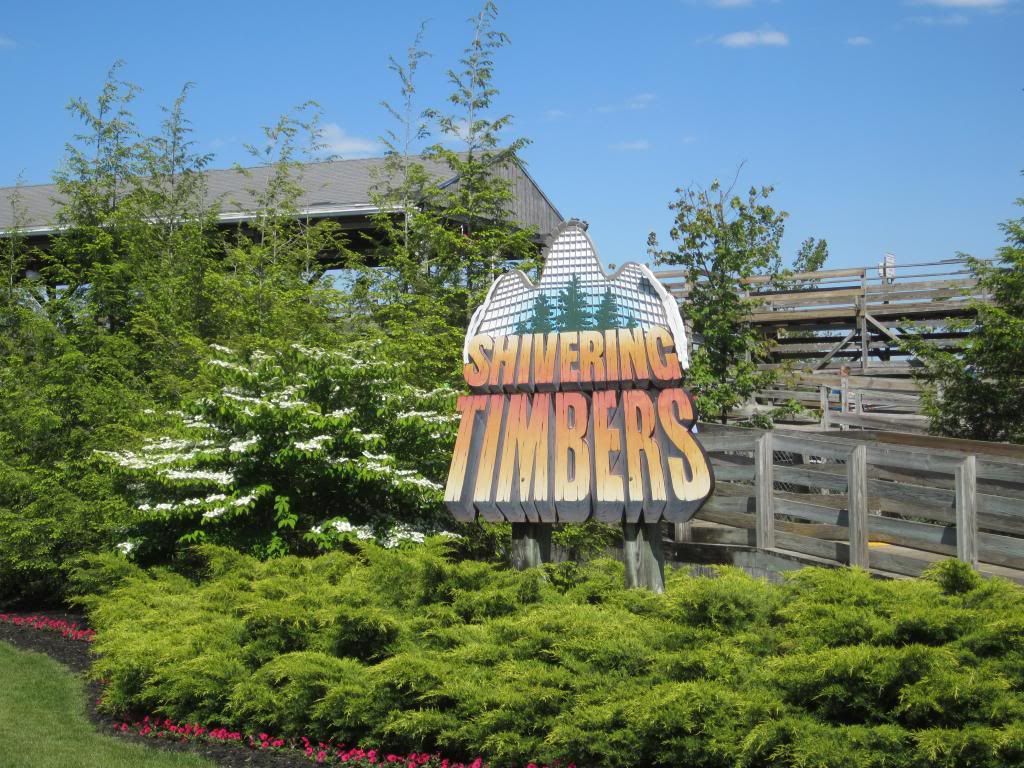 Ahh, here's our "chariot" for the next 6 hours - Blue car in the back!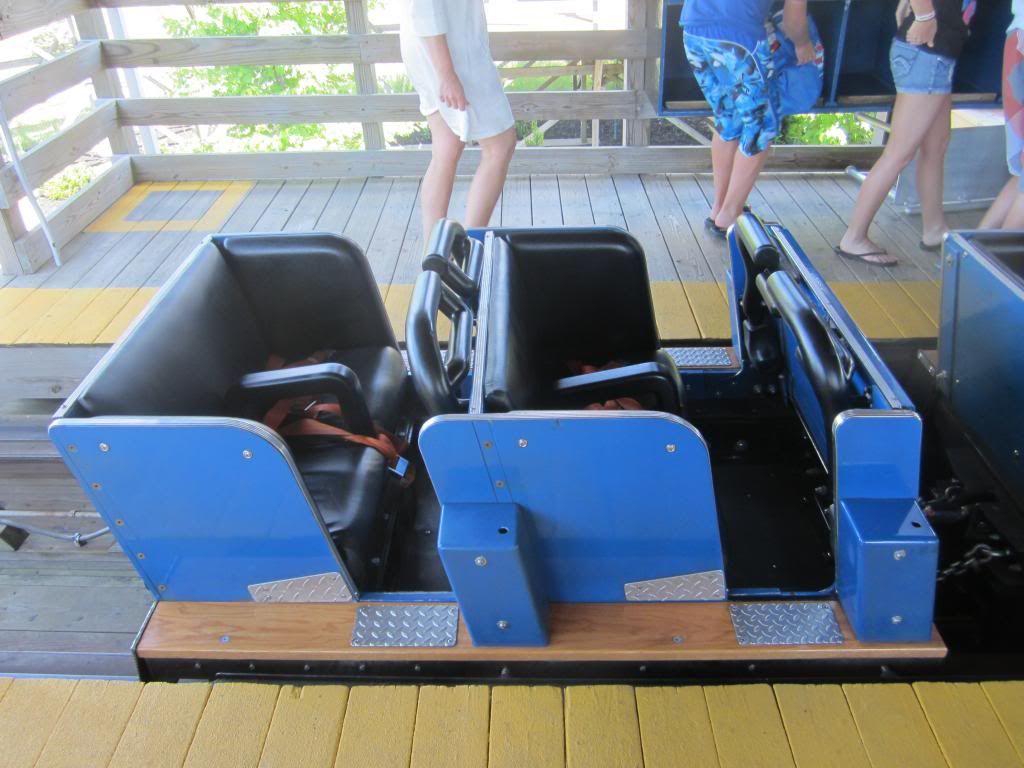 The ride itself is great including some seldom seen coaster traits including what I learned later was called "trick track". Let's just say if you don't prepare for the treat, your trick is painful as a man!
After 6 hours and 66 rides on Shivering Timbers the park is announced closed and we are all sad, but happy as well. Sad that the great day at Michigan's Adventure is over, but happy that Team Negative G raised over $1700.00 dollars between Paul, myself, Draven and Bond.
I can't thank Give Kids the World enough for putting this together, and Michigan's Adventure for hosting us. We made a lot of great new friends, and more importantly, as we are walking out Draven tells me "I'm happy that we helped kids be able to have fun and be a kid for a little and ride coasters", and isn't that what this charity and helping others is about?
as we left Snoopy waved all of us over for photos. I'm already planning next year's marathon somewhere else!
For additional information on this worthwhile charity, click on
Give Kids the World